One Bellevue Place

One Bellevue Place is a development located on the grounds of the old Bellevue Center Mall. First announced in fall 2014 by developer Crosland Southeast, the project will feature 400,000 square feet of retail stores, restaurants, and entertainment; a hotel; up to 360,000 square feet of office space; a hotel; and 330 luxury apartment homes.
Site Plan · Tenants · Timeline · Links
One Bellevue Place Site Plan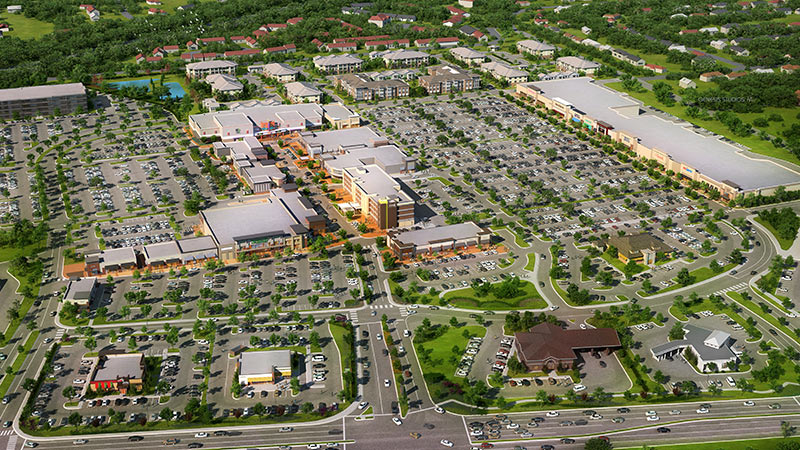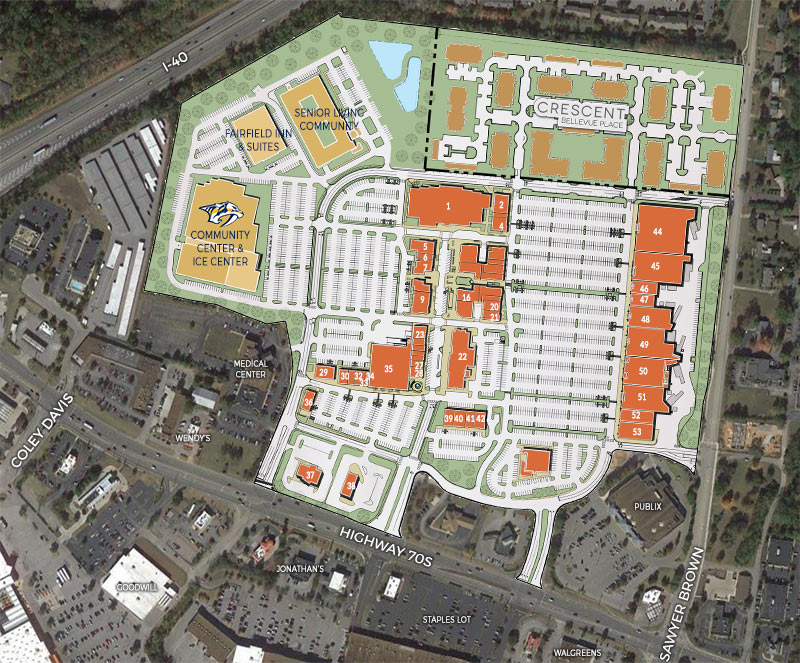 Announced One Bellevue Place Tenants
Tenants in bold have opened.
Restaurants: Bar Louie (9), Chicken Salad Chick (42), Chili's Grill & Bar (37), DeSano Pizza Bakery (16), The Eastern Peak (7), Great American Cookies (6), The Halal Guys (23), HoneyFire Barbeque (TBA), Jimmy John's Gourmet Sandwiches (41), Marble Slab Creamery (6), Panera Bread (38), PDK Southern Kitchen and Pantry (5), Qdoba Mexican Eats (36), Tropical Smoothie Cafe (30), The Well Coffeehouse (28), Wild Eggs (29)
Retail: Burlington (44), Carter's (46), HomeGoods (45), Kirkland's (52), Maurices (47), Michaels (50), Off Broadway Shoe Warehouse (48), Osh Kosh B'gosh (46), PetSmart (51), Ross (49), Sprouts Farmers Market (35), Ulta Beauty (53)
Entertainment & Living: AMC Theatres (1), Bellevue Community Center (left), Bellevue Ice Center (left), Crescent Bellevue Place (top), Fairfield Inn and Suites (top left), Home2 Suites by Hilton (22), Senior Living Community (top left)
Services: Beaulieu-Fawcett Law Group (27), Lapels Dry Cleaning (33), Luxury Nails (20), Nail Time and Spa (32), Pacific Dental Services (21), Results Physiotherapy (39), Sola Salon Studios (2), Spavia Day Spa (4), SportClips (34), Xfinity (40)
Additional tenants continue to be announced.
One Bellevue Place Timeline
August 16, 2014: Crosland Southeast offers three- to six-month time frame for announcement on Bellevue Center's future
October 17, 2014: Crosland Southeast announces community meeting regarding future of Bellevue Center
November 13, 2014: Community meeting at CrossPoint Church
December 11, 2014: Crosland Southeast publicizes additional details about plans
January 8, 2015: Metro Planning Commission approves site plan
February 3, 2015: Metro Council approves site plan for first time
February 24, 2015: Community meeting at CrossPoint Church
March 3, 2015: Public hearing on site plan; Metro Council approves site plan for second time
March 17, 2015: Metro Council approves site plan for final time
May 19, 2015: Sprouts Farmers Market announces plan to move into One Bellevue Place
May 22, 2015: The final tenant of Bellevue Center Mall announces its departure, clears path for One Bellevue Place
July 10, 2015: Project financing deal announced
July 14, 2015: Financing deal approved by Industrial Development Board
August 4, 2015: Financing deal approved by Metro Council
August 22, 2015: Demolition Party at the mall property; commencement of demolition
December 2015: Completion of demolition; commencement of grading and construction
March 2, 2017: Metro Government and Nashville Predators announce plans for onsite regional community center and ice facility
July 31, 2017: First grand opening, Chili's, with Sprouts opening two days later
Thanksgiving 2017: Targeted opening of residential and commercial components
Summer 2018: Targeted opening for community center and ice facility
One Bellevue Place Links
Video of November 2014 community meeting
Video of February 2015 community meeting
Metro Planning Commission Approves One Bellevue Place
Crosland Southeast's One Bellevue Place page
The Tennessean: Crescent Communities plans 335 apartments at Bellevue Center (May 16, 2015)
The Tennessean: Healthy grocery store Sprouts heads to Bellevue Center (May 19, 2015)
The Tennessean: Sears to close at Bellevue Center in early August (May 22, 1015)
The Tennessean: Bellevue Center razing to make way for $200M project (July 10, 1015)
Get Updates
Keep up to date with the campaign and happenings around Bellevue.
Latest News
This vote is #RankedChoiceVoting the slow way. If they'd just had everyone rank their choices and shift votes as cau2026
https://t.co/NaD0uLhywN